Klettersteig-Atlas Österreich (6. Auflage)
Klettersteig-Atlas Österreich (6. Auflage)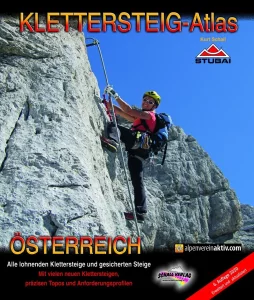 Books
Book type
Ferrata guidebook
Dieser Klettersteigführer beinhaltet laut eigenen Angaben alle lohnenden Klettersteige von leicht bis extrem schwierig in Österreich. Durch die Übersichtskarte auf der ersten Seite und die Farbleiste am Top der Seiten ist eine Orientierung beziehungsweise das Finden des passenden Steiges in der Nähe sehr einfach.


Sehr empfehlenswert sind auch die Anfangskapitel zur Handhabung des Führers. Hier sind die Symbole die die Steige beschreiben gut erklärt. Zudem findet man hier auch sehr gute Erklärungen zu den Themen Technik und Taktik, aber auch Begehen und Sichern auf Klettersteigen.


Die Steige selbst sind in der Kurzinfo durch Symbole auf einem Blick gut einzuordnen. So erhält man auf den ersten Blick eine gute Übersicht was einen erwartet. In der Charakteristik ist der Steig dann grob beschrieben. Die Kapitel Anreise und Zustieg sind sehr gut erläutert. Sie ermöglichen eine zielsichere Anreise bis hin zum richtigen Parkplatz und einen punktgenauen Zustieg zum Klettersteig.


Der Klettersteigführer ist sehr übersichtlich, die Beschreibungen und Topos sehr exakt. Die Handhabung ist sehr einfach und übersichtlich. Besonders praktisch ist die Ausführung als Mappe, so kann man die Seiten jedes einzelnen Steiges herausnehmen und in der beiliegenden Klarsichthülle ganz einfach mitnehmen. So erspart man sich das Mitschleppen eines ganzen Buches.


Already in its 6th edition (May 2020) - greatly expanded and completely updated (now over 450 via ferrata and secured routes!). Once again there is a professional and up-to-date complete work, which clearly documents the latest state of the art of via ferrata in Austria!


With 800 (!) pages by far the most comprehensive and at the same time the most up-to-date guide about the many beautiful via ferrata in Austria !


Approx. 2.500 colour illustrations, photos and topos, with ring binder system


Here you get the ferrata-guidebook
  available at   Freytag & Berndt
  available at   Amazon
  available at   Thalia
Map
User comments
There are no user comments for this listing.
{{#ratings}}
{{#editor}}
{{/editor}} {{#user}}
{{/user}}
{{/ratings}}
{{title}}
{{#ownerCreatedBlock}}
{{#owner}}
{{#url}} {{#avatarSrc}} {{/avatarSrc}} {{^avatarSrc}} {{& avatar}} {{/avatarSrc}} {{name}} {{/url}} {{^url}} {{#avatar}} {{& avatar}} {{/avatar}} {{name}} {{/url}}
{{/owner}} {{#created}}

{{created}}

{{/created}}
{{/ownerCreatedBlock}} {{#category}}
Category:
{{category.title}}
{{/category}}
{{#fields}}
{{#showLabel}}
{{label}}:
{{/showLabel}}
{{& text}}
{{/fields}}