Klettersteig-Atlas Österreich (7. Auflage)
Klettersteig-Atlas Österreich (7. Auflage)
Hot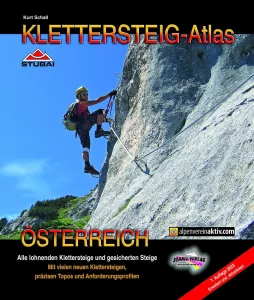 Where to buy
Books
Book type
Ferrata guidebook
KLETTERSTEIG-Atlas Österreich - Dieser Klettersteigführer enthält nach eigenen Angaben alle lohnenden Klettersteige von leicht bis extrem schwierig in Österreich inkl. grenznaher Klettersteige in Oberbayern. Durch die Übersichtskarte auf der ersten Seite und die Farbleiste am Kopf der Seiten ist die Orientierung bzw. das Auffinden des passenden Steiges in der Nähe sehr einfach.

Sehr empfehlenswert sind auch die Anfangskapitel zur Handhabung des Führers. Hier werden die Symbole, die die Steige beschreiben, gut erklärt. Außerdem findet man hier sehr gute Erklärungen zu den Themen Technik und Taktik, aber auch zum Begehen und Sichern von Klettersteigen.

Die Steige selbst sind in der Kurzinfo durch Symbole auf einen Blick gut einzuordnen. So hat man auf den ersten Blick einen guten Überblick, was einen erwartet. In der Charakteristik wird der Steig dann grob beschrieben. Die Kapitel Anreise und Zustieg sind sehr gut erklärt. Sie ermöglichen eine zielsichere Anreise bis zum richtigen Parkplatz und einen punktgenauen Zustieg zum Klettersteig.

Der Klettersteigführer ist sehr übersichtlich, die Beschreibungen und Topos sehr genau. Die Handhabung ist sehr einfach und klar. Besonders praktisch ist die Ausführung als Mappe, so kann man die Seiten der einzelnen Steige heraustrennen und in der beiliegenden Klarsichthülle einfach mitnehmen. So erspart man sich das Schleppen eines ganzen Buches.

Bereits in der 7. Auflage (Mai 2023) - stark erweitert und komplett aktualisiert (jetzt über 500 Klettersteige und gesicherte Wege!). Wieder einmal gibt es ein vollständiges, professionelles und aktuelles Werk, das den Stand der Entwicklung des Klettersteigs in Österreich klar dokumentiert!


With 800 (!) pages by far the most comprehensive and at the same time the most up-to-date guide about the many beautiful via ferrata in Austria !


Approx. 3.00 colour illustrations, photos and topos, with ring binder system


Here you get the ferrata-guidebook
  available at   Freytag & Berndt
  available at   Amazon
Map
User comments
There are no user comments for this listing.
{{#ratings}}
{{#editor}}
{{/editor}} {{#user}}
{{/user}}
{{/ratings}}
{{title}}
{{#ownerCreatedBlock}}
{{#owner}}
{{#url}} {{#avatarSrc}} {{/avatarSrc}} {{^avatarSrc}} {{& avatar}} {{/avatarSrc}} {{name}} {{/url}} {{^url}} {{#avatar}} {{& avatar}} {{/avatar}} {{name}} {{/url}}
{{/owner}} {{#created}}

{{created}}

{{/created}}
{{/ownerCreatedBlock}} {{#category}}
Category:
{{category.title}}
{{/category}}
{{#fields}}
{{#showLabel}}
{{label}}:
{{/showLabel}}
{{& text}}
{{/fields}}